Program Overview - Electronics and Telecommunication Engg.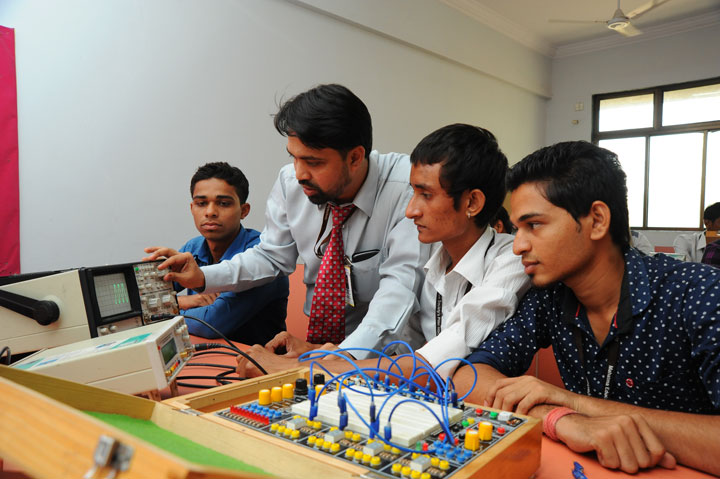 Electronics and Telecommunication Engineering is a field that involves complex electronic apparatus, circuits and equipments that help in executing speedy and efficient telecommunication systems. Electronics and Telecommunication engineers design, fabricate, maintain, supervise and manufacture electronic equipments used in entertainment industry, computer industry, communication and defense. The ever increasing pace of development in electronics, audio and video communications systems and the automation in industry have made an electronic engineer a catalyst for the change of the modern society.
Electronics and Telecommunication Engineering - Program Details
Affiliated to
Maharashtra State Board of Technical Education (MSBTE)
Duration
3 years, Full Time
Academic Year
2 semesters each
Sanctioned Intake
60
Exam Structure
Theory, Practical, Oral, Term Work
Theory Exam
Conducted by Maharashtra State Board of Technical Education (MSBTE)
Electronics gadgets and communication systems of the present age have tremendously improved the quality of life today. With the tempo of events throughout the world, it has become essential to have more efficient communication network with the latest electronic devices and circuits. Besides giving a thorough grounding in basic sciences and engineering subjects, the curriculum in Electronics and Telecommunication Engineering lays greater emphasis on deep understanding of the fundamental principles and thorough knowledge about electronic devices and circuits, computer architecture and microprocessors, VLSI and embedded systems, electromagnetic field theory, analog and digital communication, digital signal processing, microwave and broadband communications.
Department of Electronics & Telecommunications is one of the oldest departments established in 2009. Electronics & Telecommunications is one of the most important trade of engineering the equipment used in all fields are just because of electronics engineer. You will enjoy hands-on activities and hands-on learning, while working with electronics and technology. Electronics is the cutting-edge of the world today and the wave of the future, providing excellent career opportunities. Electronic equipment is becoming more complex and is being used everywhere, in industry, business and in our homes.
Programme Educational Objectives (PEO)
PEO 1. Provide socially responsible, environment friendly solutions to Electronics and Telecommunication engineering related broad-based problems adapting professional ethics.
PEO 2. Adapt state-of-the-art Electronics and Telecommunication engineering broad-based technologies to work in multi-disciplinary work environments.
PEO 3. Solve broad-based problems individually and as a team member communicating effectively in the world of work.